Our State Flag.
State Song
Background midi music is the tune to the song!

Eight stars of gold on a field of blue -
Alaska's flag. May it mean to you
The blue of the sea, the evening sky,
The mountain lakes, and the flow'rs nearby;
The gold of the early sourdough's dreams,
The precious gold of the hills and streams;
The brilliant stars in the northern sky,
The "Bear" - the "Dipper" - and, shining high,
The great North Star with its steady light,
Over land and sea a beacon bright.
Alaska's flag - to Alaskans dear,
The simple flag of a last frontier.

Return to top
General
We have areas that get
24 hours of daylight
24 hours of night
3 million lakes
How big are we? Very big!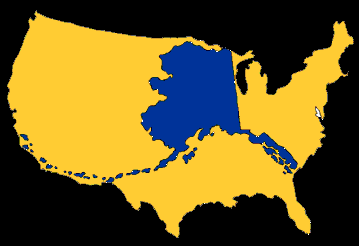 586,400 Square Miles
We are 2 times the size of Texas
We have 29 volcanoes
33,000 miles of coastline!
1,400 miles North to South
2,700 miles East to West
Over 1/2 the world's Glaciers
55 miles east of Russia
We are the only state to have coastlines on three different seas.
Arctic Ocean, Pacific Ocean and Bering Sea.
Return to top
Records
Record high temperature: 1915 +100 oF
Record low temperature: Tanana -78 oF
High tides of 37 feet
Snow: 24 hours; 62 inches
1 year; 974 inches (Thompson Alaska, near Valdez).
Return to top
Majestic Landscape

Mountains

Mount Denali: 20,320 feet (Tallest in North America)

Mount Elias: 18,008 feet
Foraker - 17,400 feet
Bona - 16,500 feet
Blackburn - 16,390 feet
Sanford - 16,237 feet
Vancouver - 15,700 feet
Churchhill - 15,638 feet
Fairweather - 15,300 feet
Hubbard - 15,015 feet
Bear - 14,831

Kodiak - 3,588 square miles
Prince of Wales - 2,770 square miles
Chichagof - 2,062 square miles

Lakes (largest)

Iliamna - 1,000 square miles
Becharof - 458 square miles
Teshekpuk - 315 square miles
Naknek - 242 square miles

Longest River

Yukon - Total of 2,300 miles, 1,875 in Alaska
Return to top
Wildlife (click the title to see more Wildlife info and images)
Kodiak Bear; 1,400 pounds, 11 feet tall
Polar Bear; 1,400 pounds, 11 feet tall
Grizzly Bear (Brown Bear); 800 pounds, 9 feet tall
Moose; 1,350 pounds, 5 feet high to shoulder
Antlers span; 72 inches
Purchased from Russia in 1867 for under 2 cents an acre.
Return to top
Official
State Motto: North to the future.
State Flower: Forget-me-not.
The plant grows well in most of Alaska's varied climate.

State Bird: Alaska Willow Ptarmigan (Lagopus lagopus alascensis Swarth)
It can change it's color from light brown to snow white. The willow ptarmigan was named Alaska's state bird in 1955.

State Tree: Sitka spruce (picea sitchenensis)
The evergreen is found throughout the southeastern and central areas of Alaska.
State Marine Mammal: Bowhead whale
State Fish: King salmon (Oncorhynchus tshawytscha)
King salmon weighing up to 100 lb. have been caught in Alaska. The king salmon is also known as the chinook salmon and is a popular sport fish. It became the state fish in 1962.

State Sport: Dog Mushing
It once was the primary form of transportation in most of Alaska. Today dog sled racing is a popular winter sport. It was adopted as the state sport in 1972.

State Gem: Jade
Alaska has a large deposit of jade, including an big mountain filled with dark green jade on the Seward Peninsula.
State Mineral: Gold
The search for gold played a major role in shaping the history of Alaska, from the discovery of gold in Juneau to the great gold rush at Nome. Gold was named the state mineral in 1968.
State Insect: Four spot skimmer dragonfly


One of the plates available.